D'Artisan Shoppe
Regular price
Sale price
$46.60 USD
Unit price
per
Sale
Sold out
WetNDRi Paint Tray Pallet with Lid. Painters Dual Dry Color Mixing and Stay Wet Palette for Acrylic Painting Miniatures Art. D'Artisan Shoppe Plastic Paint Palette Tray 50 Palette Paper 2 Sponge
About this item
PALETTE FOR ARYLIC PAINTS KEEPS PAINT WET. Wet palette for miniatures keeps paint from drying out during painting. Paint pallet with lid saves leftover paint instead of disposable paint palette.

PAINT PALETTES FOR ALL MEDIA. 3-in-1 paint tray pallet can be used as paint palette for acrylic painting, oil paints or watercolor palette. Perfect for citadel paint, vallejo paint set, model paints for plastic models tamiya kits, dnd minatures

UNIQUE MULTIUSE XL TRIPLE PALETTE PAINT TRAY. Painting palette for artists, or wet pallete with 2 sponges & palette paper. Covered plastic paint mixing painters palette tray keeps paint blends wet with consistent values using gasket & elastic band.

PAINT ORGANIZER & PAINT HOLDER. Paint tray large enough to hold miniature paint brushes acting like a brush storage holder. Gray sponge stains less plus gives true paint mixing palette tones unlike white sponges. Pallet Size is 8.6 x 6.2 x 1.5 inch

STYLISH DESIGN MINI PAINT PALETTE - Low profile design for easy brush access to paint longer. 18 wells for paint, metallics, ink or as palette cups. This acrylic paint palette will make any artist needing art supplies, dnd or warhammer fans happy.
| | |
| --- | --- |
| Material | Plastic |
| Color | Blue |
| Brand | D'Artisan Shoppe |
| Style | Modern |
| Item Dimensions LxWxH | 8.6 x 6.2 x 1.5 inches |
Share
View full details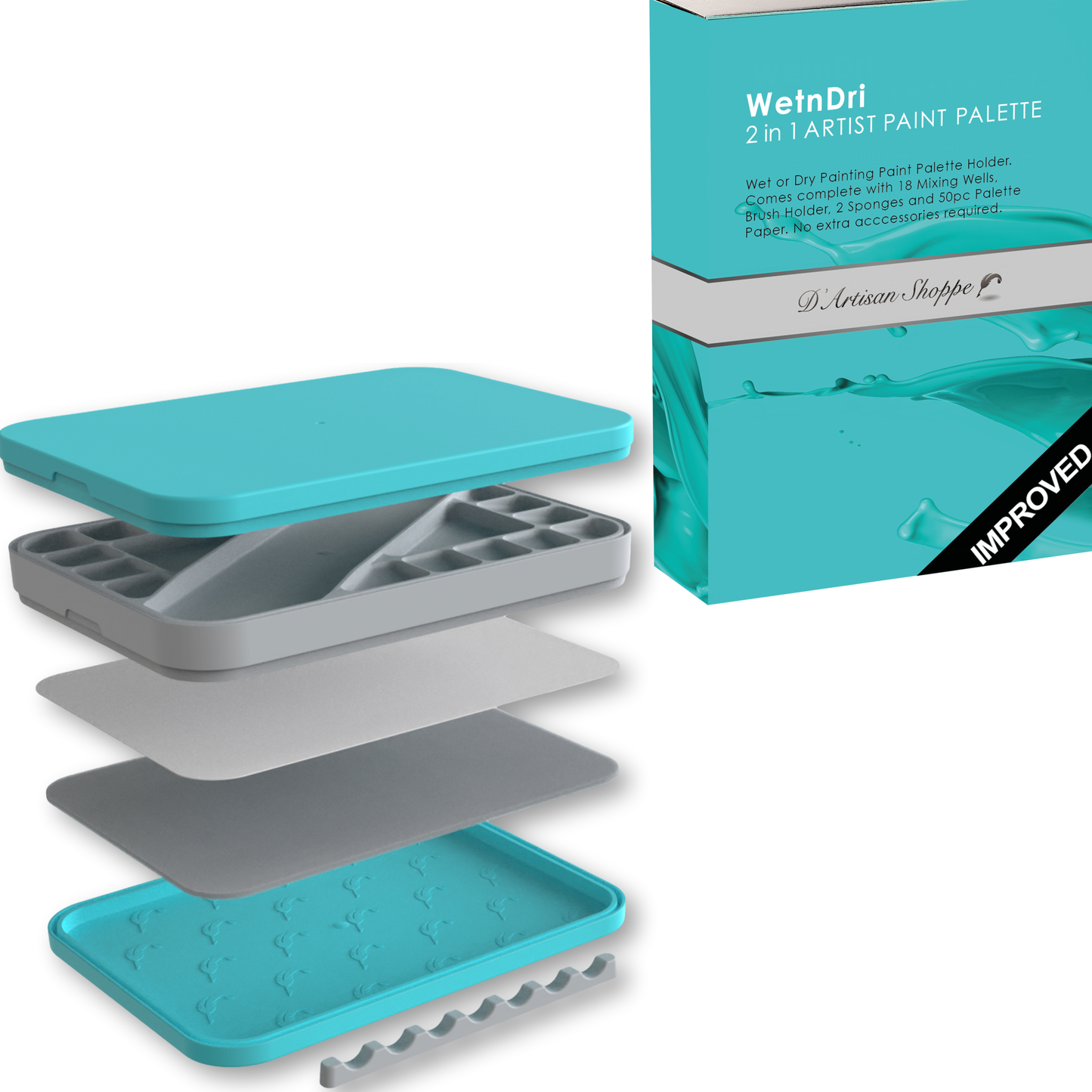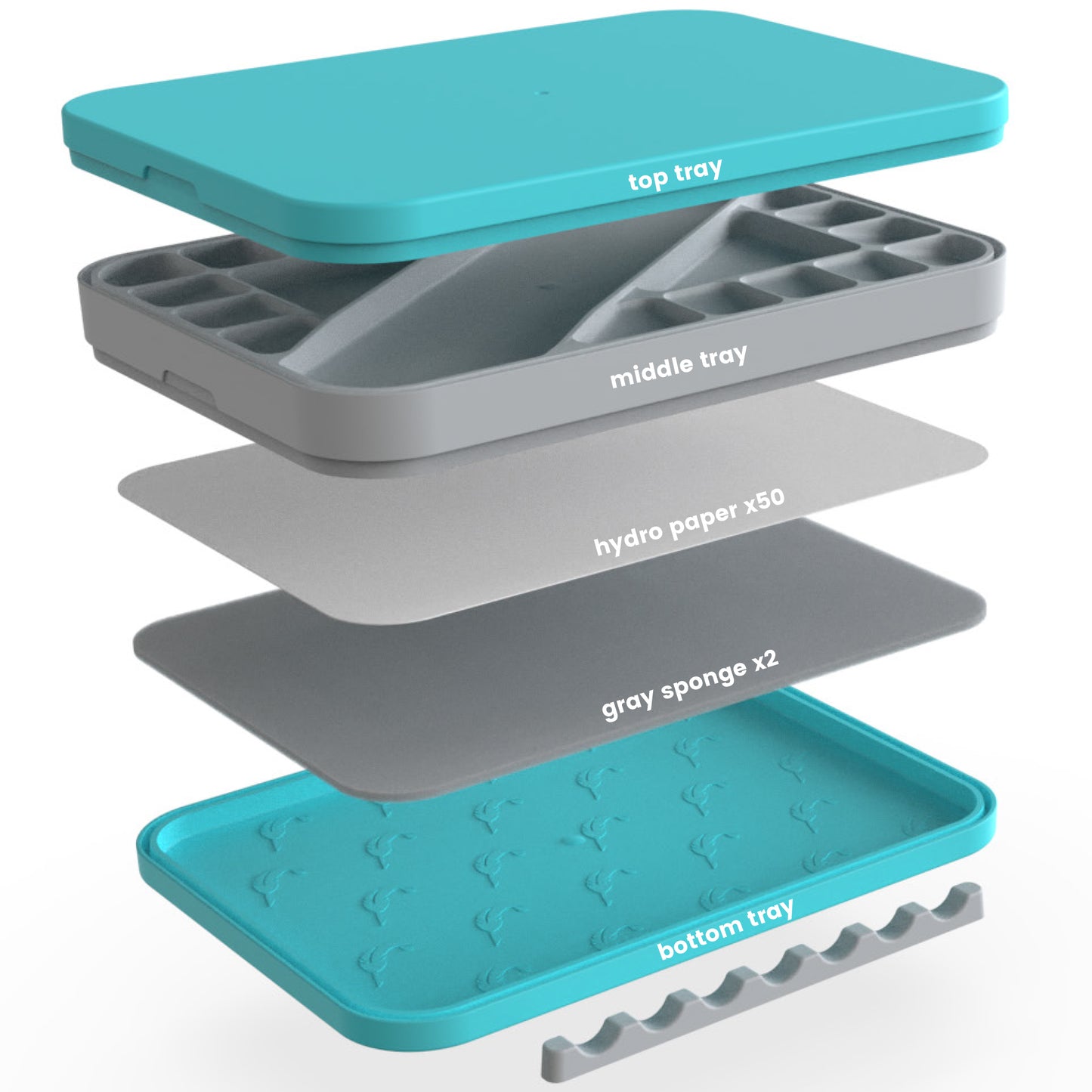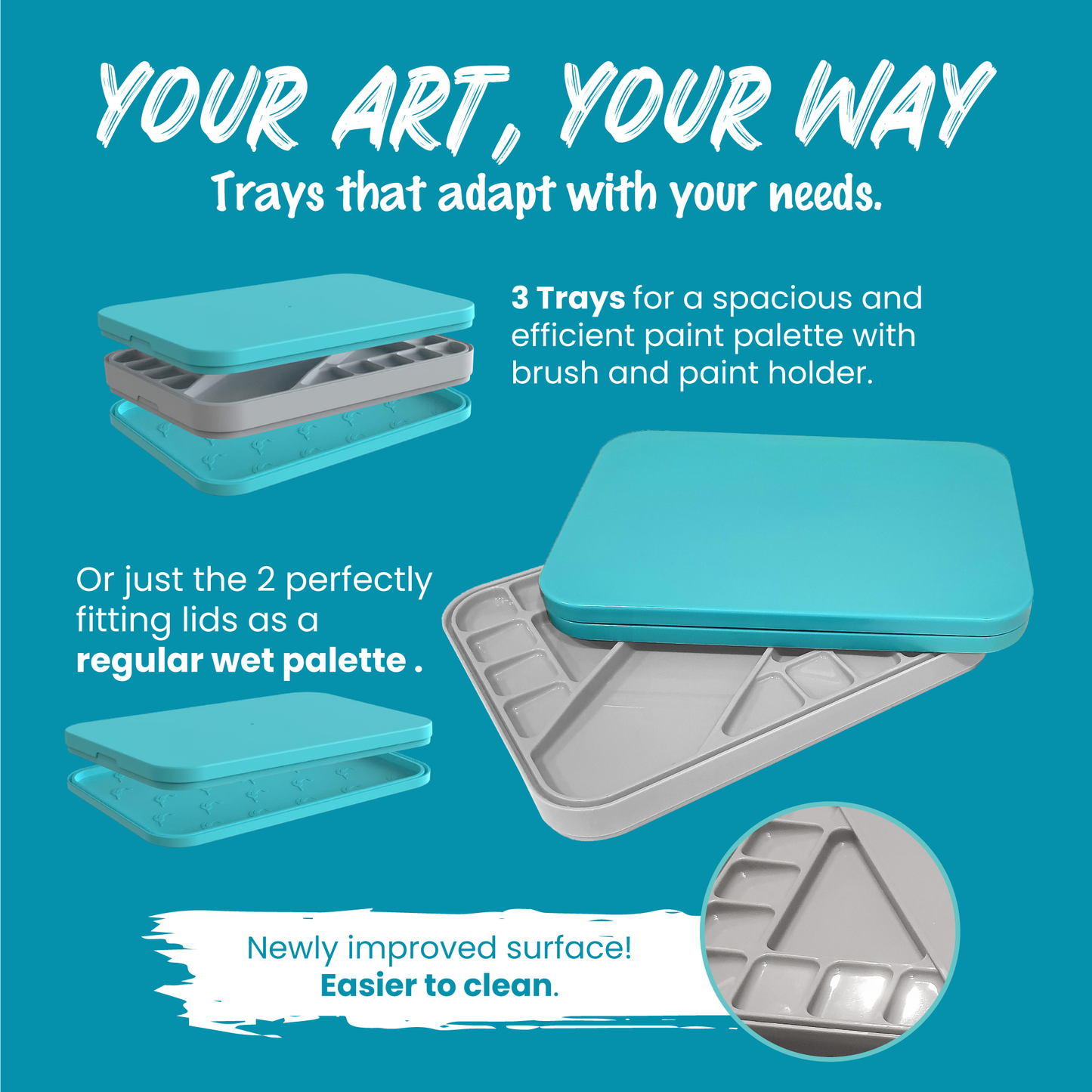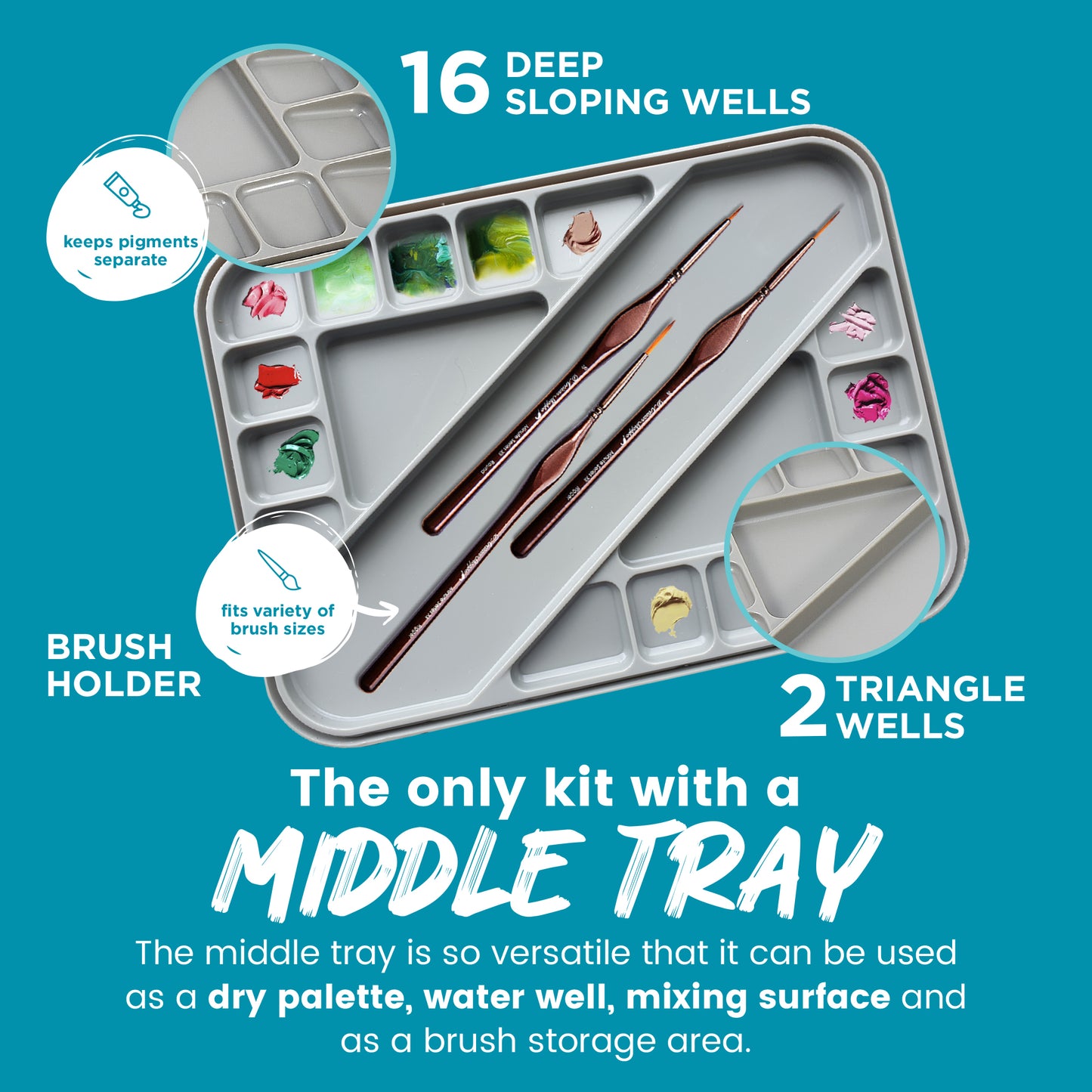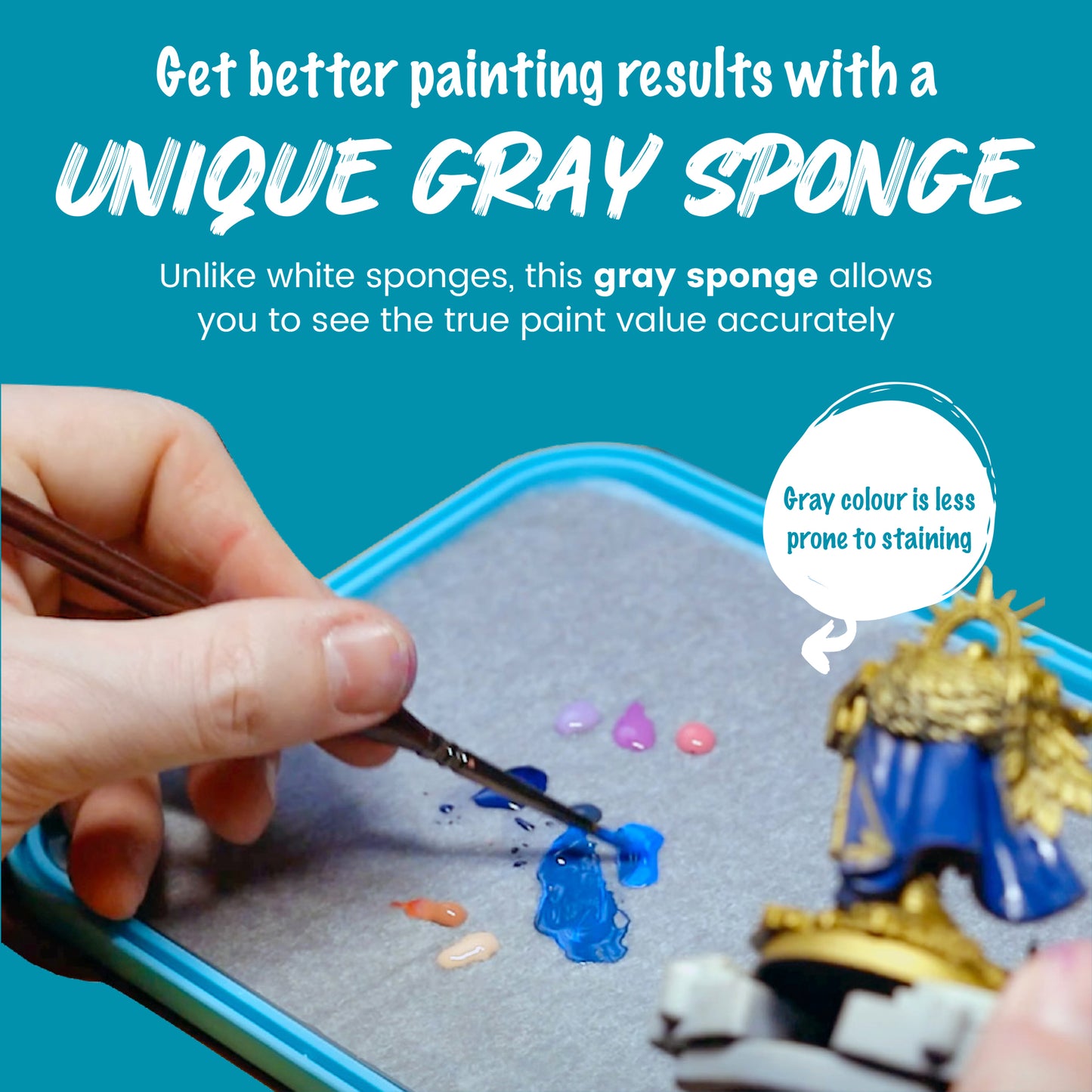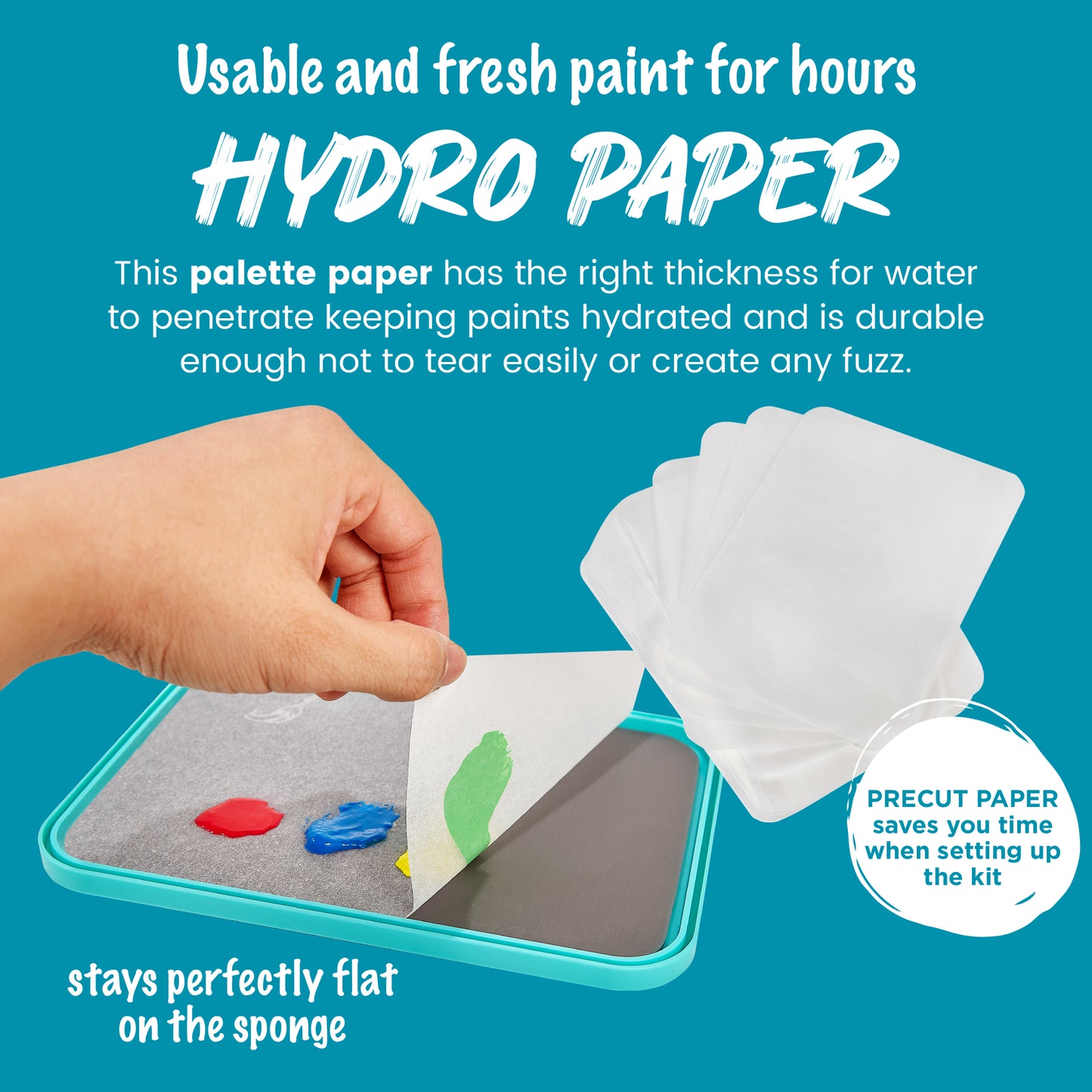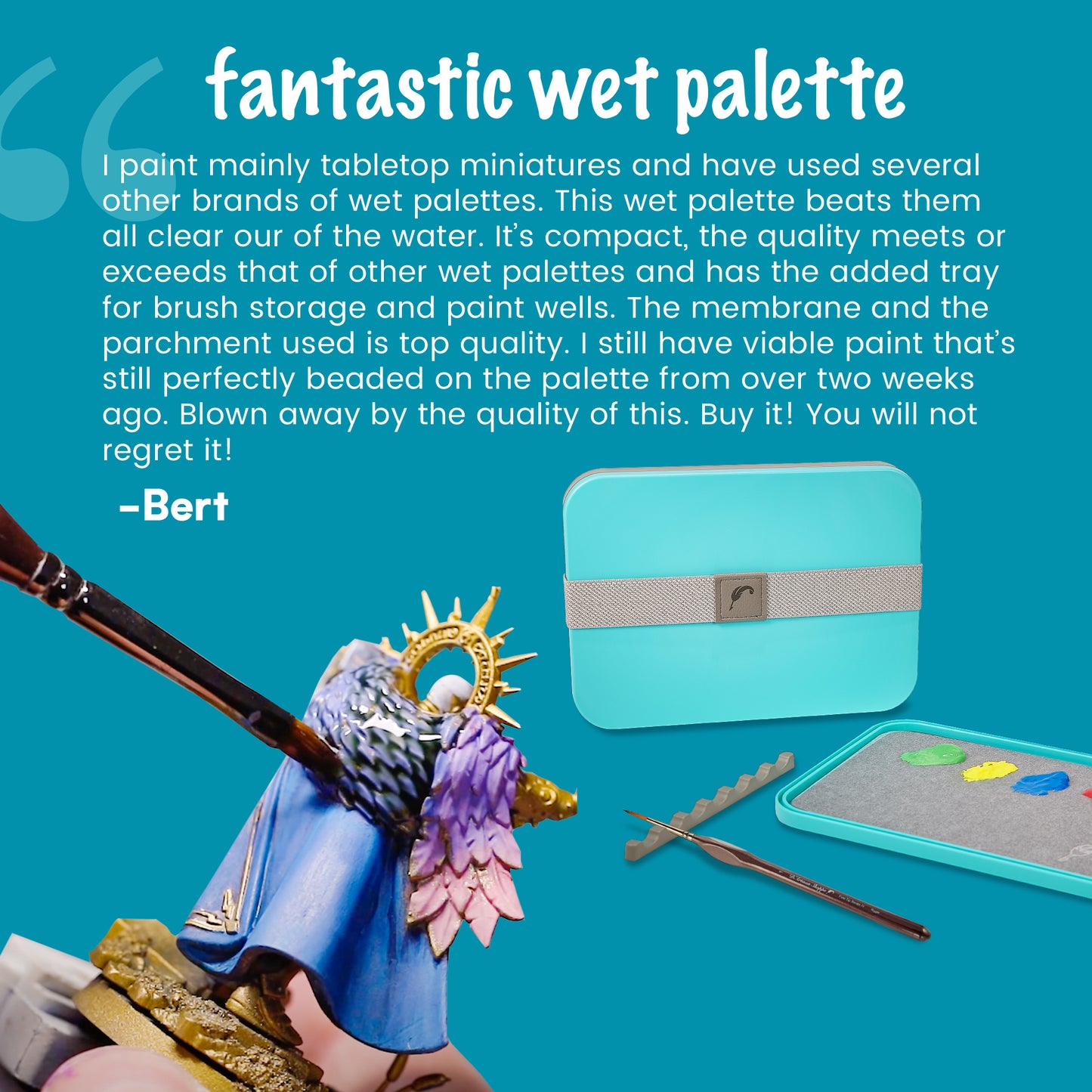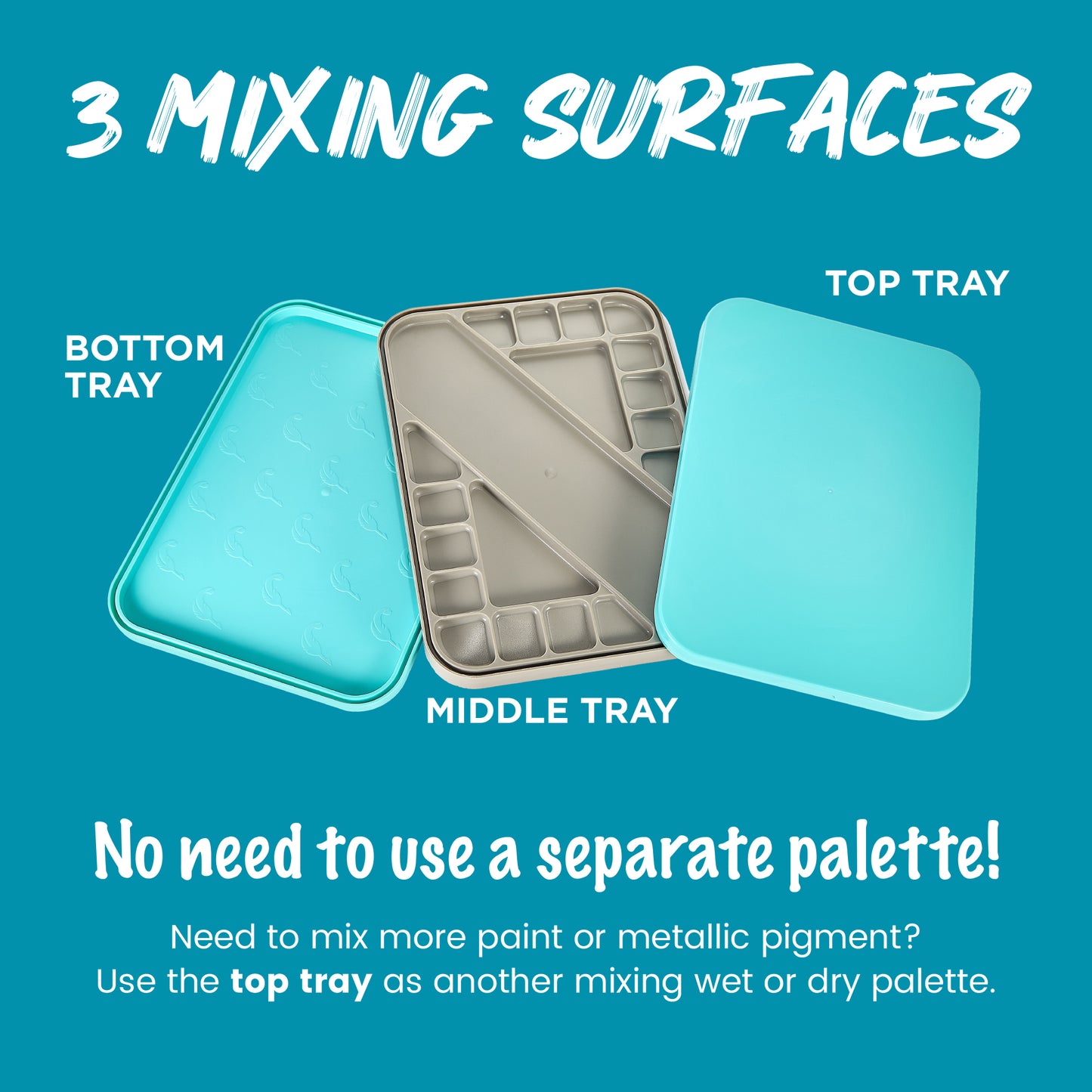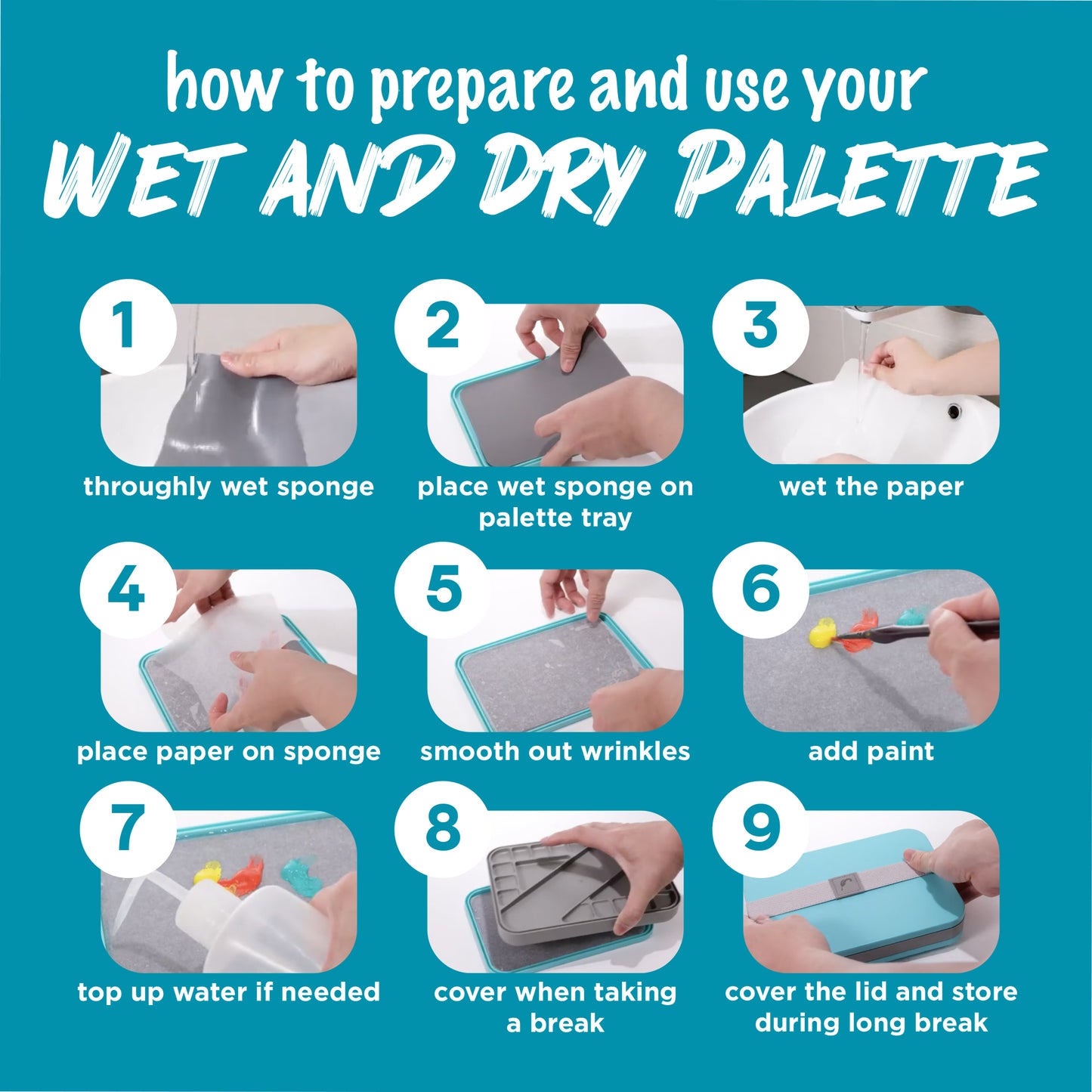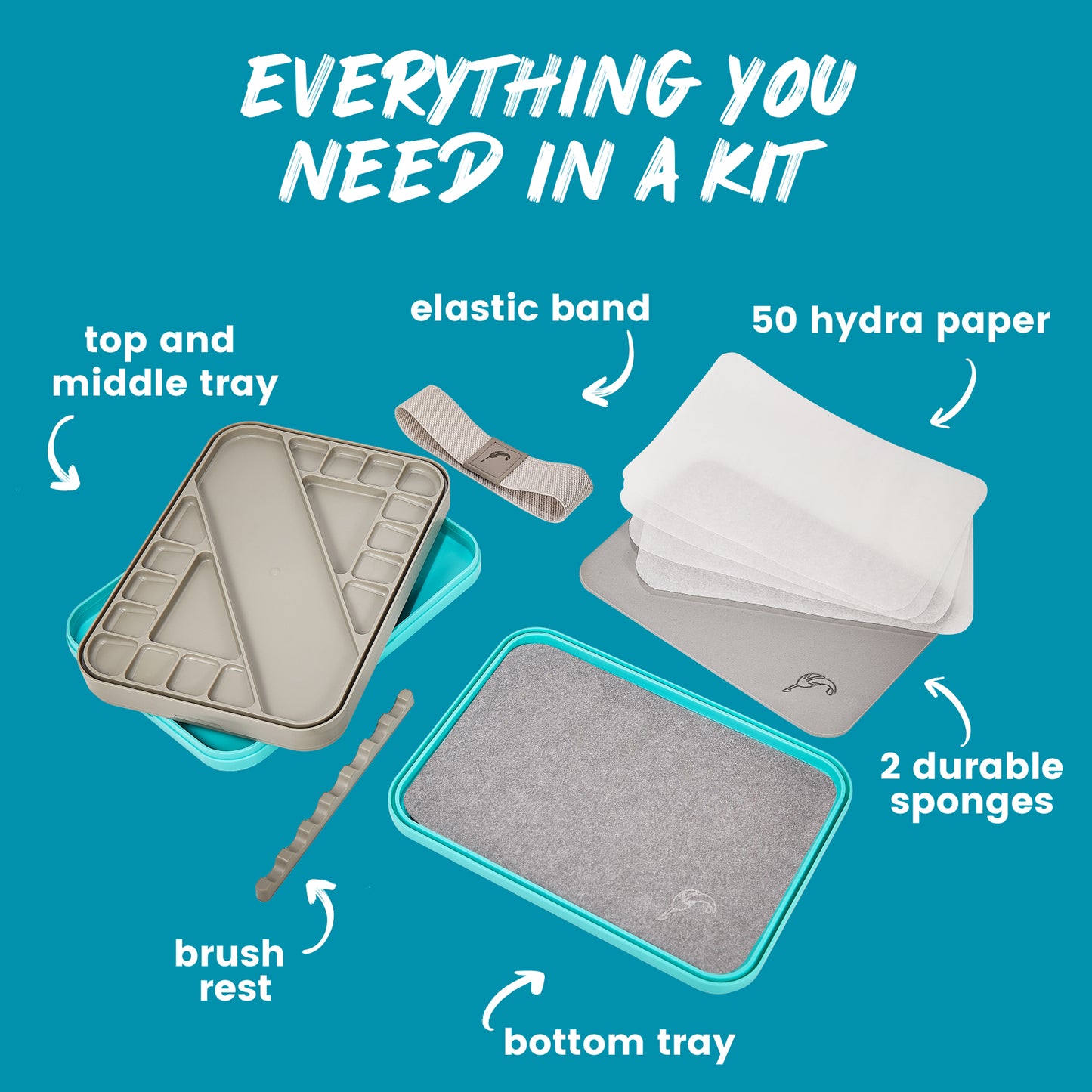 the best wet/dry paint tray
the best wet/dry paint tray I've brought I've it looks professionally and works perfectly i love it top quality
The Best!!
Literally the best one I've owned. Super nice design, great quality! I've painted miniatures for over 30 years, and this one is definitely a must. Great for beginners and pros.
Pretty much gold standard for wet palettes
Not only is this wet palette beyond perfect the customer service is A1. Had an issue (probably due to my own stupidity) and got a response same HOUR. They not only resolved my issue with ease but we're very pleasant to speak with. If you are on the fence… buy it. Doesn't get better then this.
Keeps expensive hobby specialty paints usable much longer!
I like the size of this pallet, it doesn't take up a big amount of my work table. I also like the specialty sponge and pallet paper combo. I recently started painting Warhammer figures with my son as a bonding activity. Those little critters are pretty fun to paint! We picked up some specialty Citadel paints, and the consistency is perfect for enhancing the details! But Citadel paints are somewhat pricey! Add to that the fact that they dry quickly, and you have potential for significant waste. I hate wasting art supplies!
The WetNDri Paint Tray Pallet has solved the waste issue very nicely! I put a few drops of paint on the pallet paper and mixed up a custom color for painting the metal on my critters, and then when I was finished with a first coat, I closed up the pallet & left for about a half hour. When I came back the paint was still perfectly wetted. I did a little more detail, closed the pallet and left again (there are a lot of 15 minute drying intervals during paint sessions for miniatures) Came back after lunch and picked up right where I left off.
I like the dry pallet section too, although I have yet to do anything more than store brushes in it. But I'm thinking I might use it for mica powders and Rub n' buff metallics as well as dry brushing paints.
I only have one real problem with this pallet; I originally bought it as a gift for my son, but I like it so much that now I have to get another one for him, because I'm keeping this bad boi!
Nice little box
I have not used this item during painting as of yet... however I have received the item and it's very nice. I was able to store all my random brushes inside the box for traveling. The spong pads that come with it are also of quality. I don't think you can go wrong with this item.