D'Artisan Shoppe
Regular price
Sale price
$13.50 USD
Unit price
per
Sale
Sold out
Do you paint d&d miniatures and go through tons of detail paint brush? Realize that dry brushing is rough on your miniature paint brushes? Need another completely brush on hand instead of cleaning and always reloading your small paint brushes? Buy this affordable Flat #1 acrylic brushes; save your expensive sables by using these small paint brush to mix, base coat or dry brush.

Comfortable ergonomic handles gives you a good grip to keep your hand steady and controlled when using these artist paint brushes. No more hand cramping compared to thin paint brush variants; paint longer using these hobby paint brushes and speeding through d&d miniatures bulk. Bonus: acrylic paint brush set also doesn't roll off the table due to triangular handles!

Ideal complement to wargaming miniature painting kits such as Warhammer 40K, Army Painter, DND, Reaper Miniatures, Games Workshop and model paints like Citadel Vallejo paint set. These paint brushes for miniature painting makes a nice gift with a free reusable zipper pouch of 4 brushes for painting of the exact same size.

If you need an entry level synthetic set of 4 x flat 1 mini paint brush, buy this model paint brush set. Get 4 identical size model brushes instead of 1 expensive GW of W&N small brush. Get the exact size you want; not a set with brushes you don't use. We also sell Fine Tip Paint Brushes Set in size 0, 000 and 1 in round and flat shape.

These artist brushes are great as watercolor brushes or oil painting brushes; indulge in these art brushes for rock painting, craft, paint by numbers for adults, face painting, plastic models or figurines, fantasy miniatures, goblin or dollhouse miniatures or anything requiring a detail brush.
Share
View full details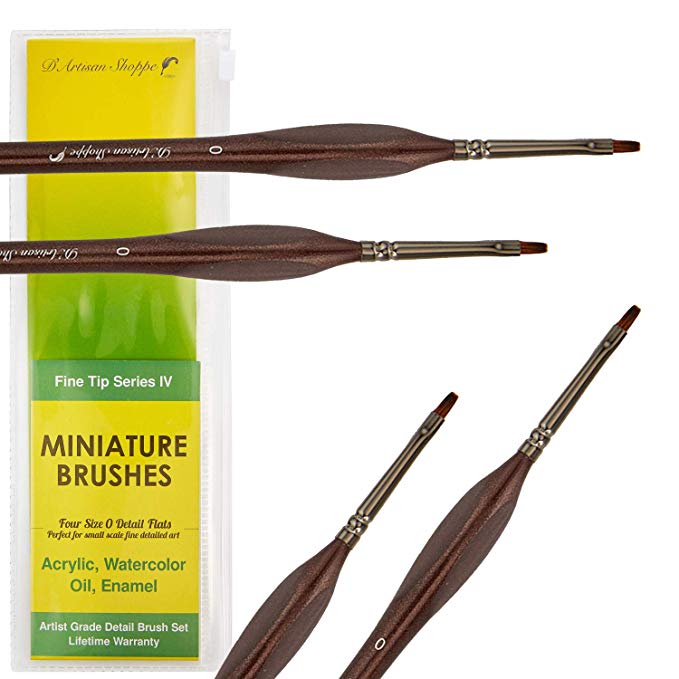 Awesome Brushes
I have been a painter for 64 years and cannot tell you how many brushes I have gone thru. I paint with a lot of detail, so it's important that the detail brushes stay in fine shape while you are using them. I received my first set of brushes as a gift from my son and have been a huge fan of this company ever since. They are now a staple for me. Usually, I will go thru a brush in one or two paintings. I have used these for two and three paintings now, and they still look and act like they did with the first use. I am so very happy with them and tell all of my students and peers about them. For a synthetic brush, they can't be beat. There are a lot of cheap brushes out there, but believe me, there is a difference in their life. JESS ANDERSON